Japanese Society of Steel Construction
President Yozo Fujino

The Japanese Society of Steel Construction(JSSC) is an organization that was established in March of 1965, to promote structural use of steel and to improve technologies related to steel construction by the business enterprises and scholars in the field of steel construction.

Since its establishment, JSSC has been playing a role of the community for its members, who are all from the various fields of the industry such as the manufacturers of steel structures, the users of steel structures, scholars, and those in the field of steel construction, architecture, civil engineering, shipbuilding and others. As a result of this diversity of the members, JSSC has been able to achieve the considerable results of its activities.

At present, we must carry out political as well as economic structural reforms resolutely in Japan. JSSC is fully determined to contribute to the reinforcement of industrial competitiveness and to the maintenance of industrial infrastructure through its effort to exploit the new market for structural steel and steel structures and to develop the new methods of researches.

Last but not least, we hope that this home page will benefit its members, and be utilized for an opportunity to exchange the practical information amongst the organizations in Japan as well as those abroad.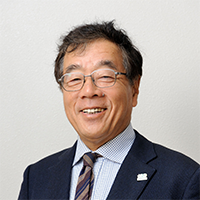 President Yozo Fujino